Get 20% off the Quesmed Qbank and OSCE Platform!
Use the Code RRS20 at Checkout for 20% Off!
Quesmed is a site that helps medical students smash their exams
This is not a paid banner but I get a commission for every person who uses my code.
Medical Specialities for a Work-Life Balance – Best and Worst
In this article, you will learn what the best speciality is if you want a good balance between being a doctor and family life.
Quick Summary
If you are in a rush, here is a quick summary of what I talk about in the article.
Here are the best medical specialities for a good work-life balance:
Dermatology
General Practice (Family Medicine)
Ophthalmology
Radiology
Psychiatry
ENT (Otolaryngology)
Plastic Surgery
Worst medical specialities for a work-life balance:
Cardiothoracic Surgery
Internal Medicine
General Surgery
Neurology
Why Some Are Better Than Others
Before getting into the weeds as to which speciality is better, it is good to understand what makes one speciality more "chill" than another.
Not all specialities are made equal.
Some are known to have a better family life while others make people run in the other directions.
The causes of this are plenty, but some of the key points could be that some specialities have:
More outpatient-based – Outpatients are patients who are only "visiting" the hospital – they aren't staying overnight. If a speciality has more outpatients, there are fewer people they need to see in the hospital which means the doctors tend to have more flexibility.
No night shifts – A&E doctors (called EM doctors in the US), will always have night shifts whether they are 30 or 60. Specialities like these require consultants to sacrifice home life for work even into senior years.
Reduced stress – Some surgical specialities are known to be at the height of stress like cardiothoracic surgery. Being so stressed that you dream about work in your sleep is not a nice feeling.
Fewer emergency cases – A large number of emergency cases means more night shifts, higher levels of stress and more training which all impact on family life.
However, having a good work-life balance is not always to do with the speciality.
Other factors are not to do with the speciality but can still influence how good the work-life balance are:
Living in rural vs urban areas – Living in a big city might be exciting, but it can also be more tiring. Rural areas tend to have few patients and a better quality of life. Be careful though; if being in a rural area means you end up poorly staffed, then you could end up worse off than if you had stuck to a big city.
Well-staffed hospitals – Lots of nurses and doctors can relieve the stress placed on you and stop you spending hours after your shift, working on paperwork and documentation.
Country – A lot of the statistics that are talked about in this article are based on US figures. However, the best speciality for your country might be completely different. It can depend on the training, staff, reputation, pay and so many other things. Make sure you talk to a lot of doctors in the field before going into it.
For these reasons, it is important to choose a speciality that you will enjoy and want to be a part of. Many doctors have quit their speciality to become a GP (Family Medicine doctor) just because they want to spend more time with their family.
Now that you know what the different factors that affect work-life balance as a doctor are, let's discuss the question all new doctors seem to ask. What are the most relaxed specialities in the whole of medicine?
The Best Medical Specialties for a Work-Life Balance
Here is a list of the specialities with a good work-life balance with a brief explanation as to what makes the life of that speciality so good. Note that the specialities are not listed in any particular order.
Dermatology
Dermatology is famous for its flexible work-life balance and fantastic pay. While other specialities might have to sacrifice their Mercedes to spend more time at home, that certainly isn't the case for dermatologists.
Dermatologists can work as little or as much as they want and can demand high paying private customers that pay big bucks for high-quality skincare.
It is also the 9th happiest speciality outside of work.
56% of dermatologist would agree that they are happy outside of work according to the Medscape 2020 report (see below for a graph).
Unfortunately, it is incredibly competitive, with a large number of people applying for the job every year.
In fact, dermatology is the most competitive speciality in the whole of the US (if you look at which speciality requires the highest USMLE Step 1 scores).
Another thing to consider is that is can also take a lot of training.
In the UK, you need to complete three years of Internal Medicine Training (formally Core Medical Training) and then apply for your dermatology training. It could take even longer depending on the country you live in.
Therefore, think carefully about if it is worth all that stress and effort before deciding on dermatology as a career path.
Dermatology Summary
General Practice (Family Medicine)
General practice has a great reputation for being flexible with the ability to easily work part-time. The training is often much less than other specialities and can allow you to become a consultant/attending much quicker than your colleagues.
In terms of statistics though, it a mixed bag. The Medscape 2020 report put Family Medicine at one of the lowest specialities for happiness outside of work.
Only 50% agreed that they were happy outside of work, putting it 7 places above bottom-of-the-pile Neurology.
Here are some articles you can check out if you want to learn more about becoming a GP:
GP (Family Medicine) Summary
Ophthalmology
Ophthalmology is a fantastic speciality for those unsure whether to do medicine or surgery; ophthalmology has both.
Because of this, it is a 7-year training program in the UK. However, once your 7 years is up, the journey isn't over.
That's because not only is ophthalmology extremely competitive to get into, but it is difficult to find consultant/attending posts within it as well (depending on where you live).
If you are trying to go for Moorfields, a world-renowned eye hospital in London, then you might even have to do a PhD before it's all up.
Being an eye doctor has its upsides though.
Eye emergencies are rare and it is unlikely you will ever have to work many night shifts.
Surgeries can be over within an hour, so you can get that hands-on experience you love while sitting comfortably on a chair.
It is also the third-highest in terms of self-esteem according to the 2019 Medscape Report, only being beaten by plastic surgery and urology.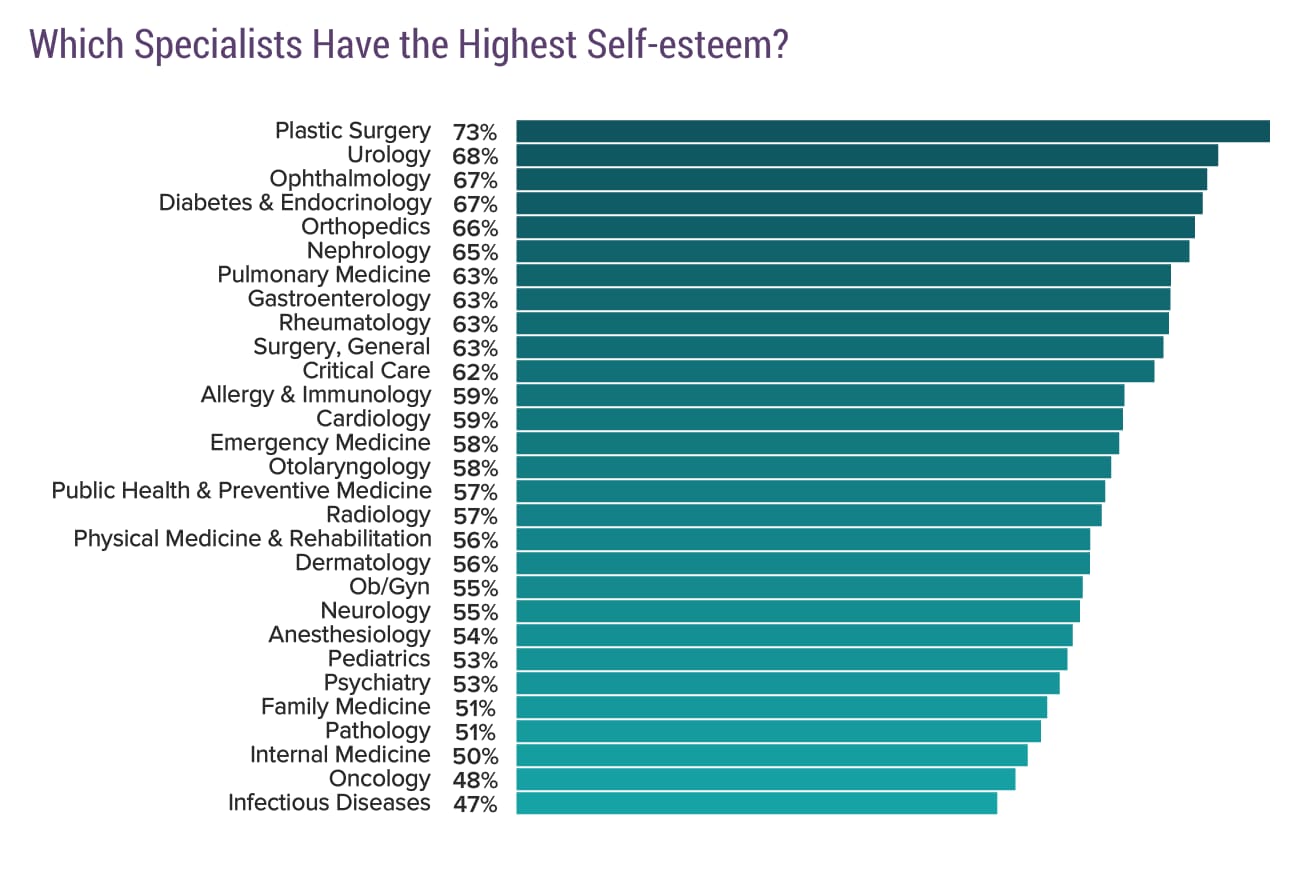 So it might be a long and bumpy ride to get to the top, but once you are there, the views are pretty good.
Ophthalmology Summary
Radiology
Radiology is great for one big reason: you don't even need to be in the hospital to work. You could be in your PJs at home while earning the same as colleagues who have to go into hospital.
This is probably going to get even more common considering how good an excuse Coronavirus is to for people to stay at home.
In the UK, they even provide high tech monitors and super-fast internet for consultant radiologists that wish to work from home, all paid for by the NHS. A pretty good deal if you ask me!
Not only this but you can perform minor surgeries if you want to.
Radiology has as broad enough range of sub-specialities that you could easily find things that you enjoy.
However, it radiologists don't feel they get the respect they deserve by patients, especially as they are never directly involved in their bedside care. Although, they do get a lot of respect by doctors considering the number of X-rays/MRIs/CT scans that take place in the hospital every day.
It can also be draining on the eyes, as you will have to be looking at a screen for 7+ hours a day while always giving an accurate diagnosis.
Radiology Summary
Psychiatry
Psychiatry is another speciality that is known for being chill. You are given plenty of time to talk with each patient, something that is unique to psychiatry.
Although the patients can be mentally challenged and be emotionally draining to deal with, the hours are good and there is a large amount of flexibility in the way you want to work.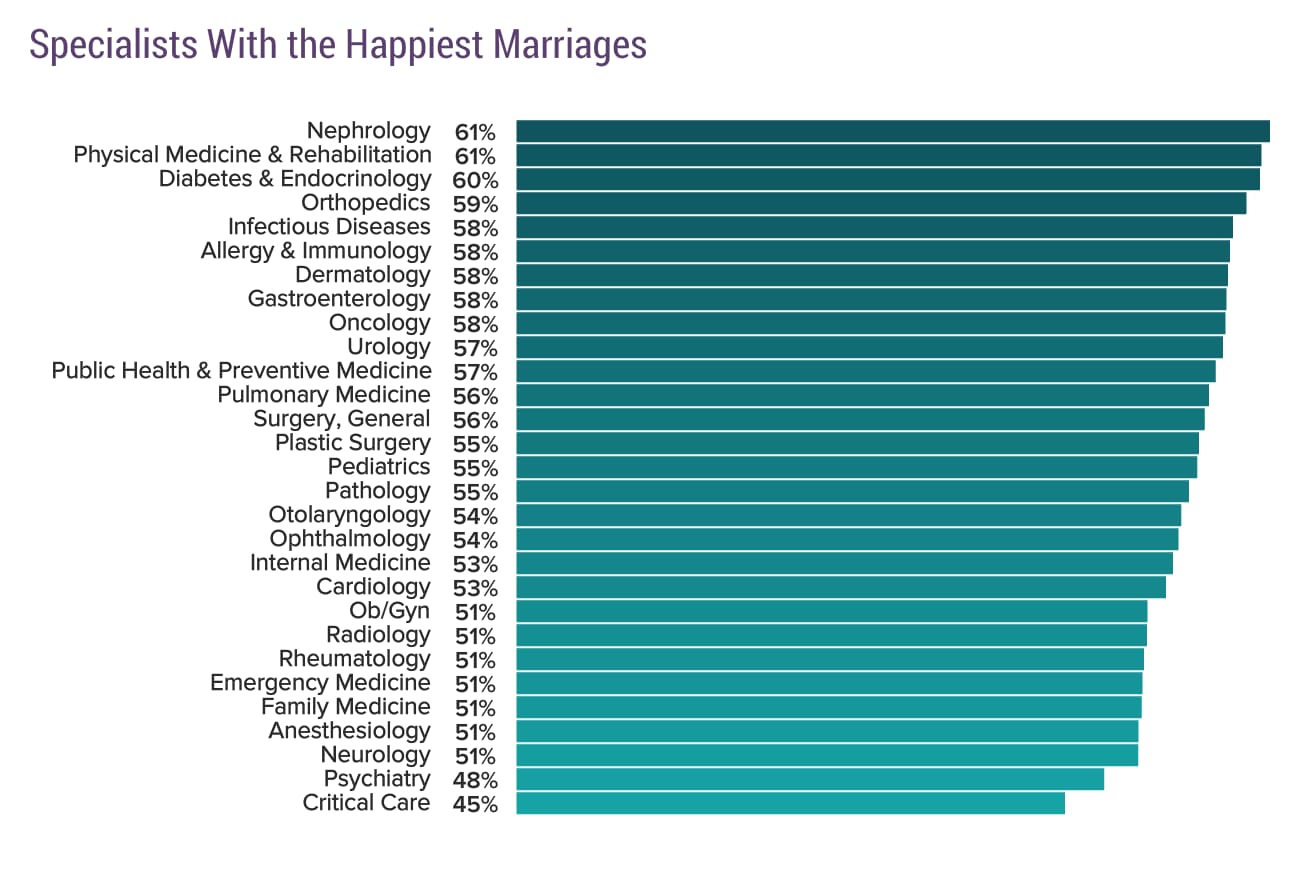 Psychiatry Summary
Ears, Nose and Throat (Otolaryngology)
If you would rather be in a surgical speciality but want to stay away from the classic nightmares like cardiothoracic surgery, then ENT is the way to go (although orthopaedics is a fantastic choice that has good hours and excellent pay – see the graph below).
There are very few emergency cases with a large number of outpatient consultations. This results in good flexibility and hardly any night shifts.
However, it is a competitive speciality to get into, so you should start thinking about it early to stand a chance of getting in.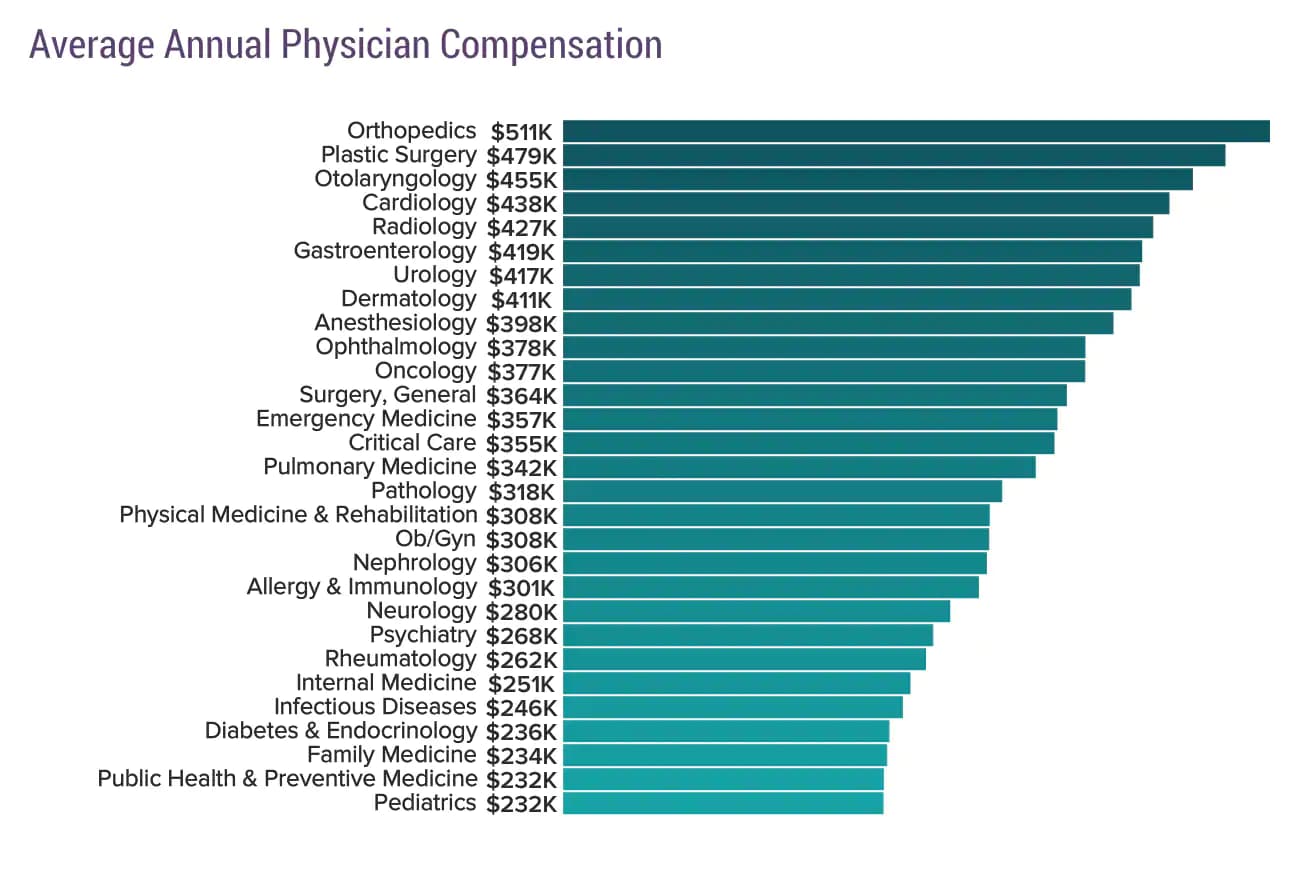 ENT Summary
Plastic Surgery
One of the most competitive and highly sought after specialities in the world, plastic surgery is known to be a brilliant balance of pay and work.
Although the training can be rigorous and the application process draining, once you get through the doors and can practice on your own two feet it is truly a wonderful feeling.
If you want to know more from a plastic surgeon who truly loves their job, I suggest checking out this article written by Dr Foad Nahai.
Plastic Surgery Summary
The Worst Medical Specialties for a Work-Life Balance
So now you have an idea of which specialities you should be looking out for, let's discuss some specialities that you need to avoid (unless you just love the speciality, then go for it!).
Cardiothoracic Surgery
Famously one of the work specialities for a work-life balance, cardiothoracic surgeons may have a great public reputation as being incredible human beings, but it comes at great cost.
There are a large number in the field who say that they regret choosing the speciality, and a significant number would quit if it weren't the only way to put food on the table.
Cardiothoracic Surgery Summary
Internal Medicine
Internal medicine is one of the least happy specialities outside of work and has some of of the lowest rates of self-esteem.
Not only this, but they spend upwards of 18 hours a week on paperwork and administration!
Think carefully before choosing internal medicine.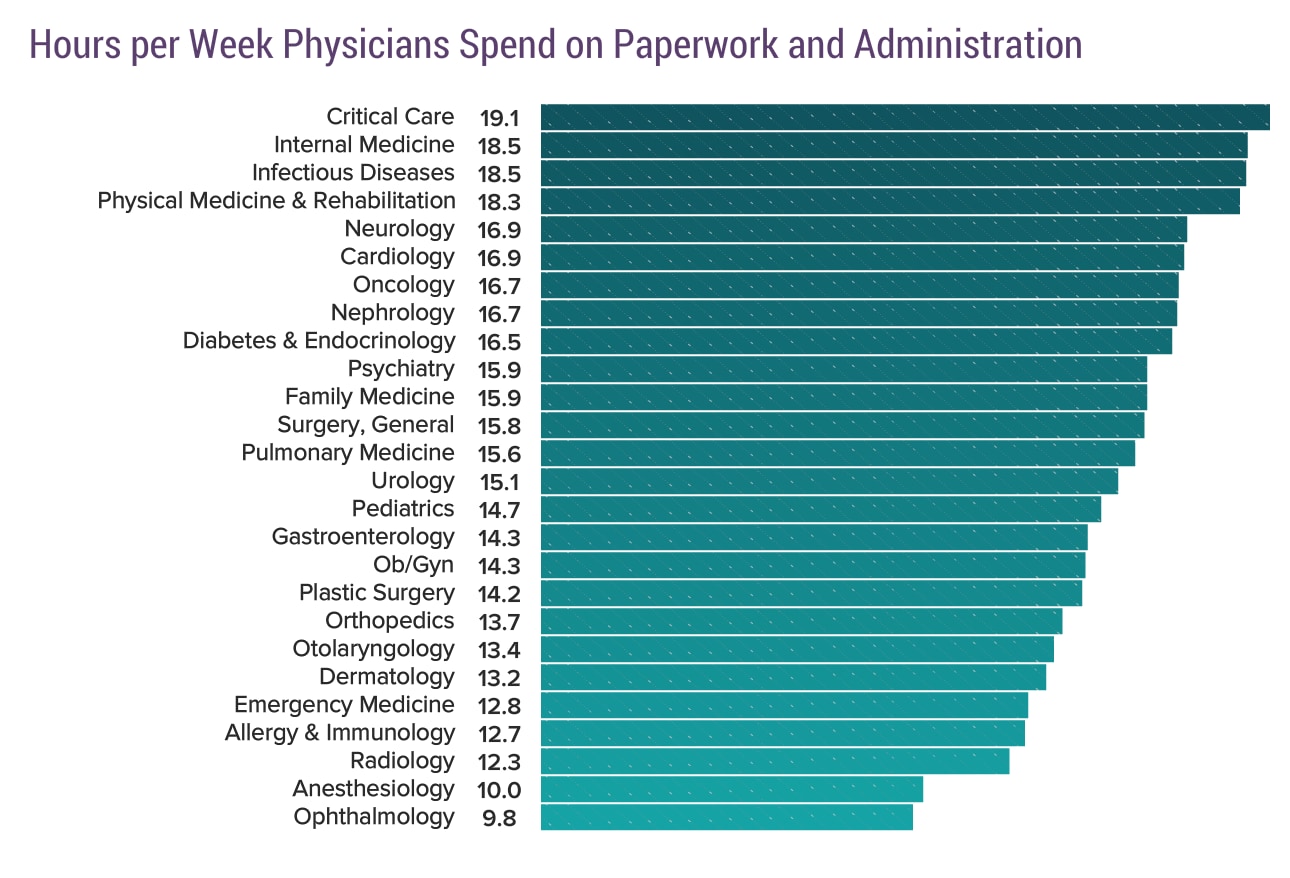 Internal Medicine Summary
General Surgery
Although it is classically seen as a challenging speciality, the Medscape 2020 report showed that General Surgery is one of the happiest outsides of work. 60% of them report being happy, only beaten by Rheumatology.
However, you might be in you 50s and still doing night shifts, although it does depend significantly on what sub-speciality you choose.
For example, a breast surgeon may not require as many late nights as a general trauma surgeon. There is a large number of sub-specialities to choose from so try and pick ones that don't have as many emergencies if you want a good work-life balance.
General Surgery Summary
Neurology
Reported as being the unhappiest speciality outside of work, neurology is one of the specialities you should avoid.
Although neurology has a good enough name, it might not be the speciality that you want to do if you like a good work-life balance.
It would also require you to do a large amount of paperwork and administration, taking up 16.9 hours a week according to the Medscape Report.
Neurology Summary
Having a Good Work-Life Balance Regardless of Speciality
If a speciality you want to do wasn't on the "good" list (or worse, if it was on the "bad" list), then don't worry! There is a way of having a good work-life balance in almost any speciality.
There are ways of having a good work-life balance regardless of the speciality you go into. Here's how:
Part-time work
You might earn less, but most specialisms do have an option to work part-time. This will free up time for you to do other projects and hobbies and also spend time with the family.
Work as a locum (aka locum tenens)
Working as a locum is similar to working part-time in that you don't have to work every day, however, it is different in that you don't go to the same hospital every day.
Rather, you can sign up to an app/company that allows you to pick any job from a list every morning. You even get paid more per hour which is a bonus!
Starting a side business
Although this might sound strange, it is very true.
If you want to be able to have a good life in the future working part-time, then having a side business is the way to go. That's because working part-time is never going to earn you enough to live a lavish lifestyle (If that is what you're aiming for). So you have to be doing something on the side.
A website, blog or YouTUbe channel can add that additional income while also providing you with a creating way to express yourself. Just give it a go and you won't regret it!
References
Here is a list of the resources I used to make this article.
Share this article with your friends and colleagues!
It helps me out a lot as I am a lone medical student running this website as a side-hobby (I would call it a side-job but I am not earning anything from it at the moment!)
If you would rather look at some other articles I have produces, then check out this list here :
Have a wonderful day!